Malta Summer Holidays 2020/2021
Malta – the very name conjures up thoughts of the George Cross and enough historical sights to keep you busy for a month. But there's so much more to this little beauty than a fascinating past. These days you're just as likely to hear about its film locations and nightlife as you are its history and culture. The Hollywood swords 'n' sandals epics Troy, Gladiator and Alexander were all filmed on the island's sunny shores. And world famous DJs are flocking here to spin some discs at the up-and-coming hotspots.
Do you enjoy swimming in the sea, sipping on a cocktail and relaxing on a sunbed? Malta offers incredible holidays with picturesque beaches that are perfect for spending quality time together in the sun. With rocky coves and sandy spots to explore, you'll love discovering this beautiful country.
One of the most popular tourist destinations amongst UK travellers for years, a holiday in Malta will never fail to please. The island's history is world renowned and makes up the basis of its culture. Book now at our best ever prices!
Malta Accommodation
★★★★
Qawra Palace Hotel is beautifully situated on the Qawra promenade, and affords wonderful panoramic views across Salina Bay. It's the ideal base for a wonderfully relaxing holiday. Shops, bars and restaurants are all within easy reach, as are the famous coastal towers built by the Knights of Saint John, while the hustle and bustle of Bugibba is only a few miles away.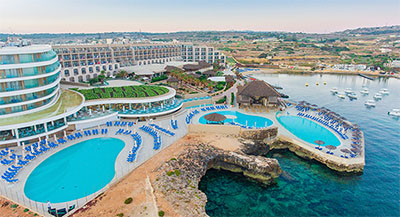 Marfa ★★★★
When you really want to get away from it all, the Ramla Bay Resort is an ideal destination. With its own 350 metre stretch of coastline, it occupies a secluded spot on the northern coast. It all feels very exclusive and when you're sipping a long, cool drink on the private sandy beach you'll appreciate just what a special resort this is.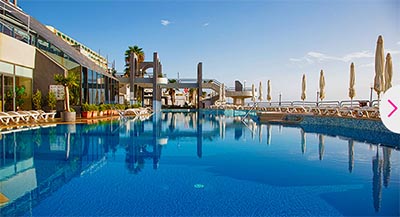 Seashells Resort at Suncrest Hotel
Qawra ★★★★
Nestled in the heart of the Seashells Resort on the bustling Qawra seafront, the Suncrest Hotel awaits you with its famously friendly and welcoming atmosphere. With easy access to the sun-kissed, sandy beaches of Malta's north coast (just a few minutes away by car) this is the place to be for sun worshippers.
Mellieha ★★★★
Set at the edge of one of Malta's most popular sandy beaches, the db Seabank Resort and Spa affords fabulous views out over Mellieha Bay. It's a perfect spot from which to settle into the country and begin to enjoy your laidback holiday lifestyle. Mellieha has so much to offer. It's a quiet, pretty part of Malta, but gives easy access to the bigger Bugibba and St Paul's resorts.
Malta Summer Holidays