Algarve Summer Holidays 2020/2021
The Algarve has drawn visitors, siren-like, to its sun-drenched shores for years – its gently shelving beaches and warm air currents make for a tempting mix of ingredients. The coastline is simply beautiful – long stretches of golden sands are washed by refreshing seas and red sandstone cliffs seclude delightful bays.
The Algarve might be Portugal's most popular holiday hotspot, but it still has plenty of secrets. A record-breaking 17.4 million tourists visited last year, drawn to the sweeping beaches, cute cobbled streets, and modest prices. But if you think the Algarve's all about tanning, kids' clubs and golf, think again…
There are countless reasons to visit the Algarve – whether you're seeking a great family getaway or a romantic escape. If there's one standout feature that makes your holidays to the Algarve worthwhile, its the beaches – stunning sweeps of coastline begging to be explored and home to hidden coves that lend perfectly for families. Away from the beaches, there's enough to keep you occupied in the resorts too. Albufeira offers a multitude of experiences, with charming cobbled streets making way for colourful market stalls and open-air bars perfect for lingering with a cocktail. If you'd rather embrace a little activity on your Algarve holidays, you're in luck. Lagos boasts many beaches ideal for surfing as well as some particularly gorgeous views. Golf fans will also find the opportunity to improve their handicap on one of the Algarve's championship golf courses. Whatever you're searching for in a holiday, you can guarantee the Algarve will fulfil your fantasies.
Algarve Accommodation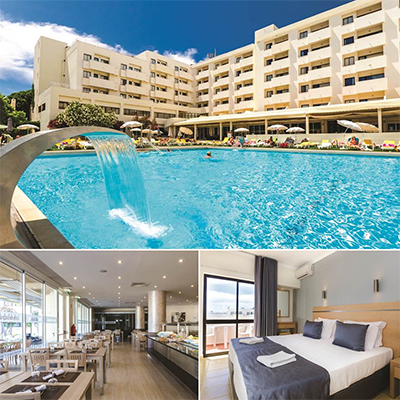 Albufeira Sol Hotel & Spa
Albufeira, The Algarve
★★★★| Our Rating
On the outskirts of the busy resort of Albufeira is the welcoming Albufeira Sol Hotel & Spa. With tranquil gardens providing peaceful sunbathing spots and a short walk to the bustling Albufeira 'Strip' with plenty of bars and restaurants to try, the hotel's popularity for offering a well-rounded holiday combining fun and relaxation can be found. Studios and suites provide a modern and comfortable stay and offer living areas to make you feel more at home, although the weather is a giveaway that you're not at home!
Algarve Summer Holidays