Crete Summer Holidays 2020/2021
Crete Accommodation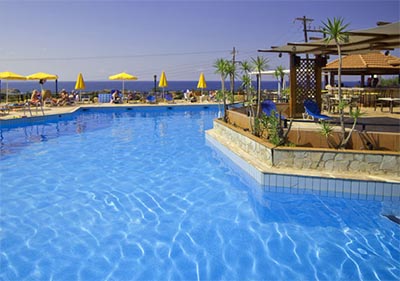 Sissi | 2* Plus
It's no coincidence that this group of pretty apartments have the name Bella Vista - the view from each one is breathtaking.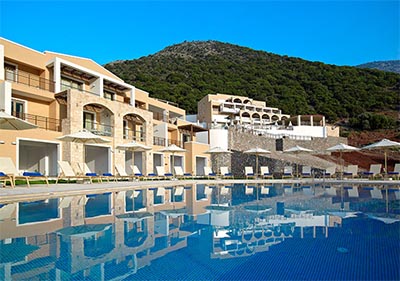 Bali | 5*
The Filion Suites Resort and Spa is a tranquil traditionally styled property offering excellent accommodation on a 17 acre plot surrounded by olive trees close to the village of Bali (2km).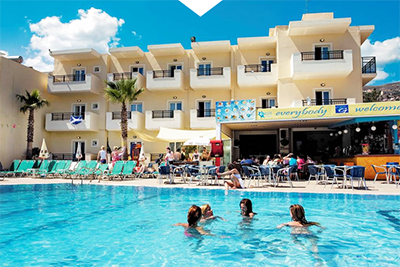 Malia, Crete (Heraklion Area)
★★★ Our Rating
Combining a great location on the outskirts of Malia, a lively pool area and simple studios and apartments, Village Oasis is ideal for groups or couples seeking a good time. Days can be spent around the pool, with a pool bar to complement serving up drinks, snacks and pumping summer anthems, this is the spot to have an afternoon drink in the sun or kick off a night sampling Malia's nightlife.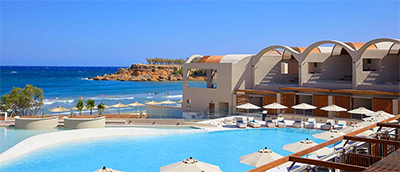 Ag Apostol | 5*
They say that the sea breeze increases your appetite and resident chef Dionissis Pliatsikas ensures nobody is hungry when he creates mouthwatering dishes with new ingredients and flavours. Fine dining is paired with a list of more than 160 wines from local wineries for a perfect dining experience next to the sea.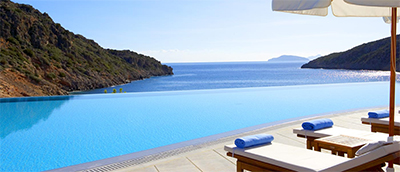 Aghios Nikolaos | 5*
Crystal Box is a bar with a twist ….. and shake with the resident mixologists taking inspiration from old time classics and adding a touch of local soul and herbs! The perfect end to a day of relaxing around the pool or the hotel's private beach area or post dinner drinks, either way the combination of the view through the dramatic floor to ceiling windows and signature cocktails will get you in the mood for whatever the night ahead has planned for you.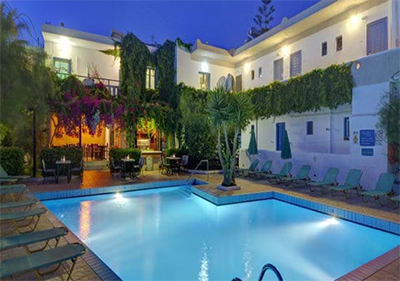 Plakias | 3*
This small, family-run complex enjoys a quiet location set just off the main road. The resorts shops, tavernas, bars, restaurants and the beach are only a 10 metre walk from the accommodation. The Kostas-Chrysoulla Studios offer the perfect location for a relaxing holiday. The friendly owners offer a warm welcome and you are made to feel at home as soon as you enter the property.
Platanias Chania | 4*
The Porto Platanias Village is designed like a traditional Cretan Village with small picturesque paths, squares and gardens full of flowers. It is located in the centre of Platanias, with a number of bars, tavernas, restaurants and cafes can be found as well as supermarkets, mini markets and speciality shops. The 4km long sandy beach of Platanias is also not far. It is a popular resort for families as it offers many amenities for small children, as well as being a good choice for couples with a range of facilities for relaxation.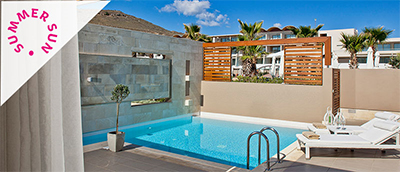 Kolymbari | 5*
Enhance your inner glow in the Apivata wellness centre and spa and soothe your senses with a range of treatments and plenty of lazing around the warm, inviting pool. Return home revived and ready to take on the world!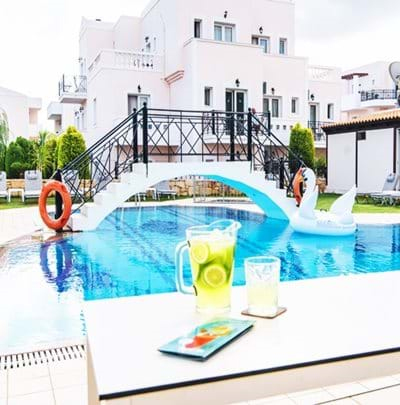 Malia, Crete | 3*
The well maintained and contemporary Yiannis Manos Apartments are set in a quiet area a short 7 minutes walk from the busy Malia road. Relax by the one of the two large swimming pools with snack bar or walk 1km to Malia port and beach. A number of sandy beaches are close by - along the 3 km beach road.
Crete Summer Holidays