Gran Canaria Summer Holidays 2020/2021
The volcanic activity that created the Canary Islands has left behind a magnificent legacy. Perhaps the most scenic of the Canarian archipelago, Gran Canaria boasts a stunning mountainous interior where rugged ravines and gaping gulleys become more fertile and lush with altitude. Winding roads snake up mountainsides to pretty whitewashed villages surrounded by spiky cacti. In contrast, bright and breezy coastal resorts bustle with life and excitement and play host to a superb selection of shops, restaurants and bars as well as long stretches of golden, sandy beaches where you can bask beneath the sub-tropical sun.
When it comes to fun in the sun, Gran Canaria knows how it's done. Puerto Rico promises action-packed beaches, while Playa Del Ingles shows off shopping, eating and drinking in its lively commercial centres.
Did you know? There is only one Starbucks in all of the Canary Islands. It is located at the Gran Canaria Airport on the island of Gran Canaria. Since the Starbucks here is located inside of airport security, only arriving or departing flight passengers can visit Starbucks in the Canary Islands. The location only carries Starbucks Spain mugs.
BY DAY - Explore the majestic Maspalomas Dunes that stretch for a whopping 400 hectares. To make it extra special, why not cross the sands on a camel?

BY NIGHT - Watch dazzling cabaret shows at the iconic Music Hall Tavern. Enjoy a three-course meal, before comedy acts and drag shows take to the stage.
Gran Canaria Accommodation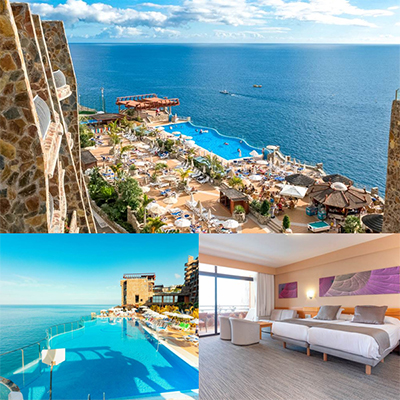 Gloria Palace Amadores Thalasso and Hotel
Puerto Rico, Gran Canaria
★★★★| Our Rating
Gloria Palace Amadores Thalasso and Hotel is in a unique position offering sweeping views of the sea. Guests will love the amazing infinity pool where you chill out and soak up the sun before heading to the pool bar without ever having to miss out on the breath-taking views and soothing sea breeze. Ideal for friends and families, the hotel has a panoramic lift that directly connects it to the seafront promenade, while back at the hotel there's plenty of entertainment and facilities to suit all ages including a bowling alley and the premier Thalassotherapy spa.
Gran Canaria Summer Holidays